About Us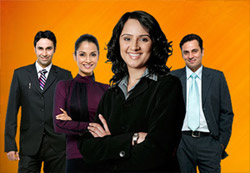 IT Point, New Delhi started its operation in the year 2005 with an aim to preach the upcoming generation in a manner that they turn to be learners first performers later. Learning being a continuous process and we believe every individual remains a pupil till the time he/she lives. We are based out of Okhla, New Delhi a stone throw distance from Jamia Milia Islamia, New Delhi. This gives us an advantage to serve the whole lobby with the various basic, professional & regular courses & programs which we offer.
IT Point is a team of young dedicated and professionally aggressive experts in the teaching domain, the administrative & the counseling end, to match the requirements of an individual from the shaping of the career to the result driven professional. IT Point has evolved and proved itself to be one of the best established & out of the crowd training institutions for students. Our trump card lies in the transparency which we maintain all through the curriculum and the ease of authentic information which we share with all our students and faculty members. This in turn helps us in getting reciprocation of similar kind of from the team which creates an atmosphere of transparent learning and acquiring knowledge. We started with a hope that we would be in a state of serving the various institutions nearby and in the Capital City and today we feel proud for this achievement of ours which has encouraged a lot of institutes, parents, guardians to shower trust on us. We the team at IT Point thank all who have been associated with us and look ahead to get a long term association with new people with a motive to serve the upcoming PLATFORM OF THE NATION – The Students.
History
A decade ago when the technology and the web reach was not this high as it is today, education was considered to be a prime factor in an individual's career. Irrespective of what an individual wanted to learn or become the basic education was a compulsion and a burden for some as well.
During those days technology like mobile application and internet technology was at boom but to a limited and selective extent. The conservative thinking of some people in a country like India didn't allow the acceptance to these for quite some time. The young generation on the other hand was too reactive to any new thing and was eager to accept, learn, master and deliver. This is where our support was asked for.
Due to the competition among individuals the basic education became a craze. Above this the knowhow and the mastery on various professional courses became a necessity. This led to the creation of a concept called IT Point in the minds of its founders. The beginning was to cater to the education hungry individuals in a manner that they get the best and are considered performers in the industry. IT Point was established at the most happening and dynamically changing Capital City of India – New Delhi.
The forecast of a Commonwealth Game in India was also one of the reasons why individuals apart from India looked ahead for a great future here. IT Point got associated with many such individuals and groups in the beginning and this gave it an edge to come up and front with the already established institutes.
The truth is right in front and we at IT Point feel the excitement and dignity to be a part of one of the oldest and most renowned institution in South East Delhi catering the majority with the best infrastructure and education.
People/Management
"A man's words are his Contract". This saying goes well with the two entrepreneurs or founders who thought serving people by educating them or their offspring's would be the best was of earning a livelihood soon after the completion of their education. IT Point was somewhere at the back of the mind after this thought.
The Chairman – Mr. Nawaz Khan hails from a place by the name Saharanpur from Uttar Pradesh, West, India. A thorough and a dedicated learner since his child hood and a will to outperform in studies made him the founder and promoter of IT Point. He did his schooling from jawahar lal nehru inter college. Further to that he became a graduate in Bachelor of Science from Chaudhary Charan Singh University followed by Master of Computer Application from IGNOU. Immediately after education he was called for delivering classes at various educational institutions keeping his rich education history and his will teach. The genuine intention & attitude to do something for the society on a daily basis and include this habit in his regular curriculum has made Mr. Nawaz Khan a well known face in the education industry. Has a rich experience of more than 16 years.
He has been considered an excellent teacher by his pupils and recognized as one of the most leading and upcoming individual to support various big institutions & organization in their planning & operations. He is a very good listener and speaker in public meetings & occasions. Likes to share and inculcate ideas for the benefit of the students at his founded institutes. He drives the air of learning among the students and the faculty members throughout the year by his presence and encourages educational activities both near his stay and institutes.
He has an indicative inclination towards teaching and during free time he likes interacting with his pupils, reading some new articles in the news daily. He likes spending most of his free time with his son & daughter who are always eager to have him as a company.
The Managing Director – A Co-founder of IT Point who bears qualities like leadership, educational knowledge, India's Economy, Business Market, Education Industry as a whole, Marketing Initiatives & above all the administration of various institutes being run under his head. Mr. Noor Nawaz Khan has brought IT Point from a one room classroom to an Institution well know by all today. His determination and thorough hard work to excel and keep improving has brought him to a level where he is today.
Born in a place where good education was a dream he has turned dreams come true for many by educating them and showing them the path to a wonderful and satisfactory life through education. He started his educational career with Jawahar Lal Nehru Inter College, Allahabad Board. After completing his graduation from R K Degree Colledge, Shamli he joined IGNOU to do Master of Computer Application. IT Point owes all its success to the vision and hard work which he has put into it. He has an experience of almost 14 years of driving all the institutions under his head.
From just a post graduate to an owner of so many institutions and business verticals both in Delhi NCR & out of it, he can be considered one successful entrepreneur who has all the qualities of a teacher and a business professional. He believes in – Delivering quality and maintaining transparency among students and partners.
In his free times he likes his son & wife as a company either at home or some holiday destination. Rest during his leisure hours he is found taking classes as he is addicted to teaching and this is what makes him feel complete.